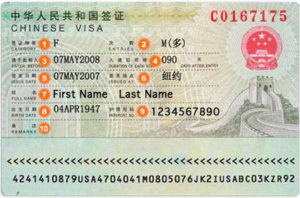 Chinese visa has the following numbered fields:
1 – CATEGORY:
China Visa category as defined by Chinese Embassy
2 – ENTRIES:
Number of allowed entries to China (subject to visa validity dates).
"M" – stands for "Multiple Entry"
3 – ENTER BEFORE:
Expiration date of your visa
4 – DURATION OF EACH STAY:
Maximum duration of stay in China per each entry.
5 – ISSUE DATE:
Chinese Visa issue date
(format might be different from MM-DD-YYYY).
6 – ISSUED AT:
Chinese Consulate that issued a visa.
7 – FULL NAME:
First Name and Last Name
8 – BIRTH DATE:
Your Date of Birth
(format might be different from MM-DD-YYYY).
9 – PASSPORT NUMBER:
Traveler's passport number.
10 – REMARKS:
Chinese Visa remarks.
Russian Universal Services specialize in services to expedite a Chinese tourist visa application

Apply for Chinese Travel Visa now
QUESTIONS? 
Email us at visa@rusonline.com or call us at (323) 650-2233.