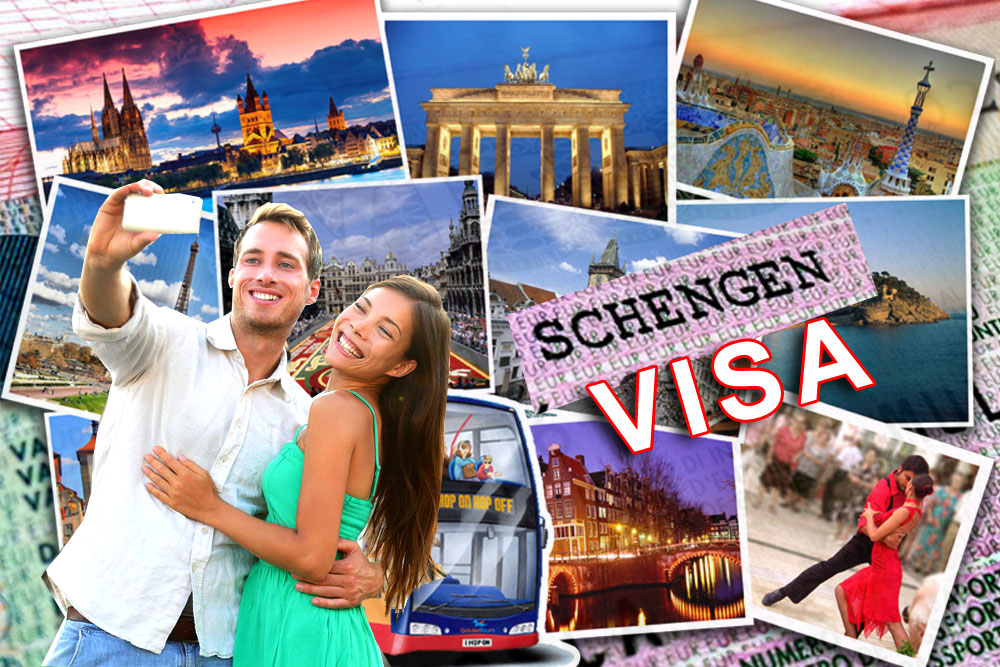 Schengen Visa Application – Expedite Service – Los Angeles CA
Do Green Card Holders Need a Visa to Travel to Europe?
US Green Card holders, who are also nationals of third countries that have not established a visa-free regime with the EU, will need to obtain a Schengen Visa, in order to be able to travel to Europe.
To apply for a Schengen visa in US, you need to submit the following documents:
Visa application form– completely fulfilled with the required information. Try to avoid any mistakes, and give correct and honest information. After giving the information you are asked to, print the form twice, and sign both copies at the end.
A valid passport or Travel document. Please make sure that:
Your passport has been issued (not extended) within the previous 10 years,
Your passport has 2 full blank pages, one for the visa stamp and an additional spare page,
Your passport will be valid for at least three (3) months after the date you exit the EU.
US residence permit.Original of valid US alien registration card (residence permit aka. Green Card) or valid US residence visa (e.g. type A, E, F plus endorsed I-20 by competent authority, G: H; I; J; plus J1 documents, L, O, R) must be presented.
The US residence permit or visa should be valid at least three months beyond the intended departure from the Schengen Area.
Photo – taken within the last three months. The photo must be taken according to the photography requirements as set by the Schengen countries.
A cover letter. In which you explain the reasons you wish to enter the Schengen Zone, the countries you are planning to visit and the amount of time you wish to spend in each and other details about your trip.
Round-trip Flight Itinerary. A booked flight reservation from US to Europe and back. If you will be taking any internal flights, you will have to include those tickets too.
Evidence of a hotel booking or rental agreement
Invitation from your Europe host (family member, friend) along with a copy of their passport or ID (Proof of sponsorship if dependant)
Rent agreement – between you and a landlord in the country where you will be staying in the Schengen territory.
Means of Subsistence. A document which proves you have enough money to financially support yourself during your stay in Europe. This document could be:
Bank Statement – A recent statement of US bank account for the last three months, as a proof that you have enough money.
Letter of Sponsorship – a letter written by another person why is willing to financially support you. A bank statement of the sponsor, no older than three months, has to be attached to the letter, in order for it to be valid.
Europe Travel Health Insurance. A document that proves you have purchase travel health insurance that covers the whole territory of Schengen Area, in cases of medical emergencies as accidents and illnesses, as well as repatriation to the United States in case of death, with a minimum coverage of €30.000.
Schengen Visa Requirements for US Residents and Green Card Holders According to Applicant's
Employment Status
Depending on your employment status in the US, here is a list of additional documents that are required to submit when applying to obtain a Schengen visa in the US:
For US employees:
Employment contract
Current bank statement of the latest 6 months
Leave permission from the employer
Income Tax Return (ITR) form or Certificate of Income Tax deducted at the source of salary
For the self-employed:
A copy of your business license
Company bank statement of the latest 6 months
Income Tax Return (ITR)
For foreign students on F1 visas:
Valid I-20
Reference letter from educational institution (school/college/university) stating that you are in good standing, your major and the expected date of graduation.
For foreign students in the US on F1 visas:
Valid I-20
Reference letter from educational institution (school/college/university) in the US, stating that you are in good standing, your major and the expected date of graduation.
For retirees:
Pension statement of the latest 6 months
If unemployed and married to an EU citizen:
A recent (less than 3 months old) Confirmation of Employment letter from their spouse's employer stating the position held within the company as well as the starting date,
Spouse's valid passport
An officially marriage certificate.
Required documents for visa application for underage children
Original birth certificate
Signed travel consent from both parents
If one parent is not located in the United States they should submit their signed consent to the Embassy/Consulate of their residing country
Tourist, travel, business, fiancé, embassy visa application expedite process support.
Service fee – $750
QUESTIONS?
Email us at info@dokumentusa.com or call us at (323) 650-2233.